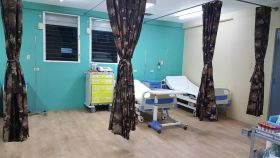 There are many English-speaking doctors in Corozal. Here in Corozal, there are US-trained physicians and there are Mexican-trained physicians, who provide healthcare as good as in the US.
To go to the doctor is a very simple process. You don't need an appointment. You just go and ask for the doctor, and it's usually very inexpensive. People ask me all the time what we do for insurance, to which I reply, "We can't afford that; we just go to the doctor."
Usually, if you had a good checkup or an exam, going to the doctor in Corozal would cost about BZ $35 (US $18) to spend a half hour with you and do a thorough check of you. The doctors speak perfect English. In fact, most of the doctors here in Corozal were trained in the US or in Mexico and learned English.
(Corozal Community Hospital, Corozal, Belize, pictured.)
Posted January 19, 2017