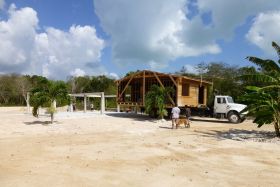 The cost of living in Corozal is widely variable. Living shelter in Corozal is relatively inexpensive. Many expats choose to build a house versus renting one.
There is a limited supply of house rentals available that would meet most expat expectations, especially long-term rentals, but this situation is beginning to change. There are more and more rental houses being built. We're in the process of building some ourselves.
Property taxes in Belize are miniscule compared to the United States. However, this may change because the Belize government is currently looking at different ways to improve revenue growth, which they would need to do to invest in infrastructure development.
Once you have a property built in Corozal, then your cost of living is relatively inexpensive because you're only left with utilities. However, electricity cost is fairly expensive because the majority of it is still generated by petrochemical-fired generators, whether diesel or gasoline, but it's mostly diesel. Belize does buy some power from some of the neighboring countries, particularly Mexico.
Water in Corozal is not expensive, but the quality is questionable. It's fine for bathing and washing. For drinking water, I would recommend to either filter it or buy purified water.
Food is extremely inexpensive in Corozal. You can buy a humongous sack of fresh vegetables at the local market for US $10. Beef is a little more expensive. Chicken and pork are still pretty cheap and the staple of the Belizean diet.
They do not have a lot of beef, but this is starting to change as there has been a little bit more beef production that the Mennonites are starting to get into. They're developing cold storage, which will allow the meat to age out properly and be a lot more palatable, too. Guys like me from Texas are used to really good beef.
If you're going to be driving around Corozal, gasoline is pretty expensive. Currently, it is around $5 a gallon. I would highly recommend a fuel-efficient vehicle or a diesel one.
Getting vehicles fixed in Corozal is pretty cheap, with the exception of some of the parts because they would need to be imported. We often go to Mexico, pick up whatever vehicle parts we need, and bring these back in to Belize, but we pay duty taxes for these parts. The amount of duty tax depends on what the vehicle part is.
In Corozal, US $4,000 a month would translate into a very nice lifestyle. You could certainly afford all your basic needs and would have plenty left over for any enjoyment that you may want to do.
If you had $2,000 a month, don't go out all the time, and cook most of your meals at home, then you'd certainly live very well in Corozal. You couldn't be a party animal, but you certainly would have some discretionary income left over after you've paid your bills and took care of basics. For $800, you could get a nice, spacious apartment that's not in an older complex that would not have some sketchy people living there as well.
In contrast, in Dallas, Texas, $2,000 a month would not be enough. You're going to be living in a tiny apartment somewhere, which is going to cost a minimum of $800 to $900 a month. If you're making car payments, plus the cost of your food, you're not going to have anything left over for any discretionary spending.
(Ed Parrish setting up his new house on the beach of Corozal, Belize, pictured. )
Posted September 15, 2017