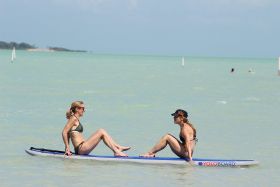 The kayaking, rafting, and canoeing in Corozal are excellent. On Corozal Bay, you can go out paddleboarding and kayaking on any day of the year. We are on the lee side of the land, so we very often have totally flat water here in Corozal. If the wind swings around to the north, we'll get waves, but because of the depth of the bay, we don't get big waves close in, so you have to go about a mile up the bay before you get any sort of real wave action.
In the town of Corozal, which is facing directly into the trade winds all the time, there is a little more build up, but I often see people swimming around the town. They just jump into the water and play in it. They take small boats with drafts of 3 feet, which is probably the safest depth that you could go, although with careful navigation, you can bring boats of 5-foot drafts quite easily.
There's one little caveat to that. If you're used to navigation aids, then you might have difficulties in Belize. There's only one navigation aid that I remember other than a couple of channel markers in Belize City. There's a marker way down south that was on a test that I had to take to become a boat captain. Basically, around Belize, don't go looking for signs of any navigation aids whatsoever. You're just not going to find them.
(Paddle board, Crimson Orchid Inn, Corozal, Belize, pictured.)
Posted May 17, 2017