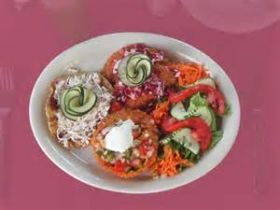 Chinese restaurants are prevalent in Corozal. Here in the village, there's a Chinese restaurant, and then we have a couple of little stands that are run by Belizeans where you can get rice and beans with stewed chicken, which is the staple of Belize. For breakfast, you can have what they call Johnny cakes (flour and dough; much like a biscuit) here, as well as tacos and sabutes (fried corn tortilla with chicken and tomato and cabbage).
Three chicken tacos cost BZ $1 (US 50 cents), and fried chicken, fried rice and French fries at the Chinese places cost anywhere between BZ $5-$7 Belize (US $2.50-US $3.00).
My friend Mark has a restaurant at Cerros Sands, which Francesca, his wife, runs. I've read good reviews about his restaurant, but I haven't eaten there. I'm sure that the menu at Mark's restaurant would vary greatly based on the food that you're ordering. Sometimes I see their ads, and can concur that their menu is geared towards American and European cuisine.
(Sabutes platter, Belize, pictured.)
Posted November 19, 2016