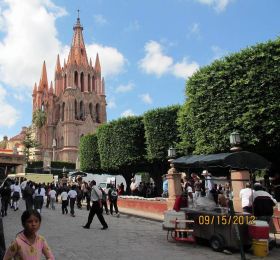 Retirement in San Miguel de Allende allows the expats who move here to experience less-rushed, exploring, relaxing kind of life and to discover more aspects of themselves.
For example, I know a doctor from Canada who came to Mexico to explore her artistic side. Here, she discovered her talent in painting and making jewelry amidst the many artists and musicians of this town. They come because, maybe, they feel free and don't feel judged.
Another example is a gentleman from England who enjoys expressing himself through his pink Volkswagen and colorful stuffed toys. He discovered he likes this playful side, and he can do that here.
There is also a large gay population adding to the diversity of San Miguel.
Some people also discover that they have the opportunity to pass it forward while contributing to the local community. They volunteer educating children, teaching English and computer skills, feeding the hungry, protecting and adopting stray dogs and raising funds for educational scholarships.
(Pictured: Walking outside the parroquia in San Miguel de Allende.)
Posted February 28, 2018