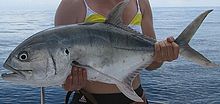 Fishing in Los Cabos and La Paz is always wonderful. We have a boat that we use on the beach. We are home to black and blue marlins, pelagic fish (fish that go across the oceans), and treefish. Fishing is huge in the sports industry in Los Cabos and La Paz. There's a fairly small, regular commercial fishery from small boats that mainly catch red snapper.
Freediving for pelagic fish and whatever they can spear is also widespread around Los Cabos and La Paz. Free divers dive down and just hang in the water waiting for the fish to come to them.
One of the area is famous for getting large fish is that the divers can leave the port and be in deep water where the big fish are within ten minutes, whereas in other places you would need hours to get out into the deep water. This is what makes freediving very popular.
Another reason freediving is famous is that since it's the peninsula, so you can get from the Pacific to the Sea of Cortez or vice versa very quickly. There is deep water in both the Pacific side and on the Sea of Cortez side. There's a lot of catch and release to promote the preservation of the fish, and we all respect it.
(Pacific crevalle jack, a pelagic fish Baja California Sur, Mexico, pictured.)
Posted December 10, 2017