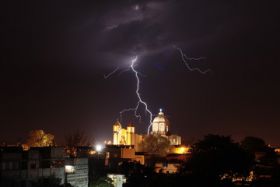 When you move to San Miguel, it is important to take certain precautions to protect against black and brownouts. When heavy thunder and lightning storms hit, be sure to take action.
Here is a list of things to do and buy:
Unplug your computers, cell phones, Internet modem, tablets, & appliances when storms approach.
Invest in a couple of UPS (uninterruptible power supply) units with battery back-up. Be sure that they protect against surges, spikes, & power outages.
Purchase several flashlights and have candles in an easily accessible place.
Talk to your neighbors to make sure power outages have been reported. Don´t assume they have been.
(Pictured: lightening striking San Miguel de Allende.)
Posted August 09, 2016