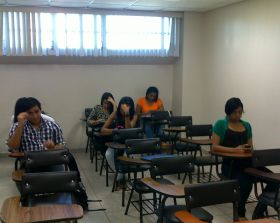 My granddaughters go to private schools here in Panama. Both private and public schools have uniforms, boys and girls go together, and they're well treated. I don't see a lot of hazing in any of the schools- private and non-private.
The women and girls in Panama are treated very, very respectfully. You'll run in to some trouble sometimes here and there, but waiters, bankers, and hotel people are very respectful to foreigners and mostly to the women. They don't play kind to someone who's insulting or treating a wife badly in front of them. It's a different culture. They like that the women are respected.
Women have the same opportunities in Panama and in the United States- they go out and push. I don't think that there are more opportunities in Miami or in New York City than in a city (Panama City) of one million people. There must be a lot more here in Panama. Our salaries are not going to be near what a banker, or a sub general manager in a bank would make in the US. You'd probably make a lot more as a female in a US bank than as a female in a Panamanian bank. In two of the banks that I go to, however, the top executive is a woman who makes a lot of money.
(High school class in Panama, pictured.)
Posted November 12, 2016