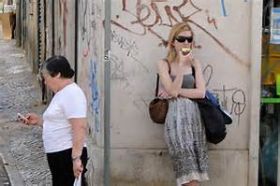 I think a woman would be better placed to respond to how women and girls are treated in Portugal, but I suppose I can provide a perspective. Women are generally respected in Portugal and having lived abroad for so many years and observing Portugal, I see a fondness for matriarchs that is perhaps not present in many Western countries. A particular concern for those visiting the country is whether women are safe – in a sense related to a sense of how women may be perceived – when visiting Portugal. I would have to say that it is one of the safest countries with which I have been associated, and in particular women can freely walk at night without substantially greater fear than men.
Women have historically had very traditional roles in Portuguese culture, namely those associated with providing a core stability of the family unit. This has unfortunately meant that tasks such as cooking, raising children, and matters relating to managing a household, are automatically associated with the mother and therefore changing this has been difficult. However, my perception is that the biggest catalyst for change is the workplace. Despite the balance still being far in favour of males in senior positions, there are many talented women who have proved their worth by choosing careers where the glass ceiling is less in evidence. Medical careers, including nursing, physiotherapy, occupational therapy and medicine, pharmacy, life sciences and to a certain extent teaching, have propelled women into more senior roles in business, R&D and education, for example. This has not happened in engineering, politics or construction, which continue to be male-dominated. I would say however, that women are no more likely to be treated poorly in the workplace than are men, and ironically my perception is that supervision by the opposite sex often results in better people management in Portugal than being managed by someone of one's own sex.
Of course, I am happy to admit that I may have it all wrong as regards how women are truly perceived in the workplace… what I can say is that most traditional corporate environments in Portugal still expect men to work long hours whenever necessary and place much less emphasis on the importance of a male family role than, for example, many Anglo-Saxonic countries.
(Women of two generations, Portugal, pictured.)
Posted July 23, 2016