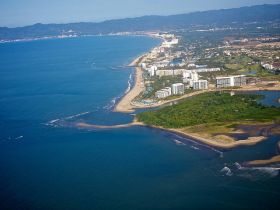 There are a lot of people out cycling in Puerto Vallarta now, and it seems to really be, excuse the pun, picking up speed here. I'm not a cyclist, and you couldn't put me on a bike in these towns, because no matter where you are as a cyclist, you would take your life in your hands on the highway.
Going through Nuevo Vallarta, there are some amazing streets where you can go that are not heavily trafficked, and I know that a lot of people like to cycle there. We have a lot of cobblestone streets in Vallarta, which are not good for cycling.
I see a lot of cyclists on highways, and sometimes I wonder, as I would anywhere, if it's safe on a highway. There are no bike trails in the Bay of Banderas, and there are other things that are better in the Bay of Banderas than cycling, but I think we're going to see some changes with that because cycling is really starting to grow quickly globally, but I wouldn't put biking as high up there yet in Puerto Vallarta, as there are no bike lanes, and keeping in mind, we have a lot of cobblestone streets.
(Nuevo Vallarta and North Banderas Bay, Mexico, pictured.)
Posted February 16, 2017