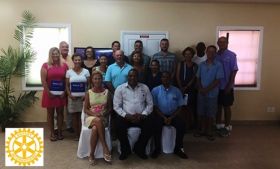 In Belize, females are treated with the same respect as men. One important concept learned early on during my time in Belize was that if I ever felt uncomfortable by a man, all I needed to say was "please respect me" and he would right away. Men have a very strict belief in the concept of respect and they do their best to show it.
Many women in Belize, as in many Latin American countries, raise children and tend to the home. However, there is a growing number of women entering the workplace. It's not uncommon for women to hold high level positions or own businesses. There are many opportunities for education and work for men and women alike.
Overall, Belize is a very safe area for women to be traveling and is an equal opportunity country for the local women. The respect between the men and the women is one aspect of the Belizean culture that truly makes spending time in Belize as a single woman so comfortable and inviting.
(Inauguration of the Rotary Club of Belize, Ambergris Caye, Belize, pictured.)
Posted August 18, 2016