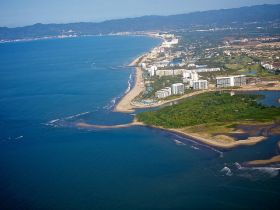 During summertime in Puerto Vallarta, you expect higher temperatures and humidity. When the rainy season comes in, there is cloud cover so this reduces the temperature and it doesn't get that hot. The humidity during the rainy season might climb up a little bit, but air conditioning could help control this.
The rainy season in Mexico starts in June up until October, as does the hurricane season in Mexico. Puerto Vallarta is near the Bay of Banderas and hurricanes don't come into the bay. The bay is our natural protection against hurricanes. South of Puerto Vallarta is a very large chain of mountains that also protects it from the natural course of hurricanes. Hurricanes usually head inland before they get to Puerto Vallarta or it might completely bypass Puerto Vallarta and head north.
Puerto Vallarta has tropical rainstorms. Tropical rainstorms kick up within a few minutes, pour down rain for about half an hour to an hour, and then they stop and the sun comes out again. The rain and gray skies is not an all-day event.
The precipitation of these tropical rainstorms in Puerto Vallarta could be from half an inch to a couple of inches of rain. The land is designed to handle runoffs. There might be a street or two that's flooded for a little while, but the flood subsides immediately.
The rains in Puerto Vallarta are short, heavy bursts that lasts for an hour or two, and then they're done. You could schedule your day around these rains because they're predictable and might occur at the same time each day. It sometimes rains at night, but if you're indoors, then it's not a problem. If the rain is in the morning, you could hang around the house and do something else for a while. When the rain stops, then you're out and about.
( Bay of Banderas, Puerto Vallarta, Mexico, pictured. )
Posted October 26, 2017