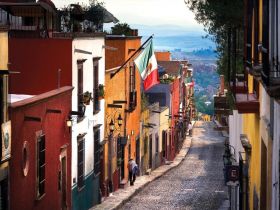 The best way to get around in San Miguel de Allende is by foot or by taxi, because parking is painful and there is increasingly more traffic in town. There are few parking lots for the amount of traffic in San Miguel, and they are increasingly full.
People who move to San Miguel often come down with a car or purchase one once they are here. When they travel to Centro, they normally leave their cars at home or in a parking lot outside of town.
Traveling by cab is the most affordable and efficient way to get around San Miguel. This is especially true during peak hours or on the weekends when there are more tourists in town and the traffic increases. Taking a taxi anywhere in Centro costs 35 pesos (US $2). This is considered the base cab fare. If you are going from Centro to the La Luciernaga mall, the cost would be $40 pesos. Prices increase as you travel further away from Centro.
San Miguel has narrow cobblestone streets. You don't want to come to San Miguel unless you have a really good pair of walking shoes. I tell people to buy a good pair of Keens (American shoe brand from Portland, Oregon known for being comfortable and sturdy), because most of the shoes sold in San Miguel don´t have very good traction.
San Miguel is a city of hills, cobblestone streets, and uneven walk ways. It is very important for people to think about balance and pay attention to where they are walking. People trip, slip and fall every day here. In fact, it is very common for older people to fall and break their hips or shoulders.
If you are in a wheelchair or you are handicapped to some point, San Miguel might not be a good place for you. There are a couple of things to consider in San Miguel. One is the altitude. We are 6,200 feet above sea level. The other is that you need to be able to walk to get around town unless you live in a gated community outside of San Miguel and just don't come into town very often.
When people move to San Miguel they are relatively healthy and as they get older, like all of us, their physical abilities diminish. When newcomers first arrive in San Miguel, it is important for them to consider how they might be affected in their later years by the cobblestone streets, walking distances to Centro, steep inclines, and two to three story homes.
(Cobblestone street in San Miguel de Allende, Mexico, pictured.)
Posted June 11, 2016