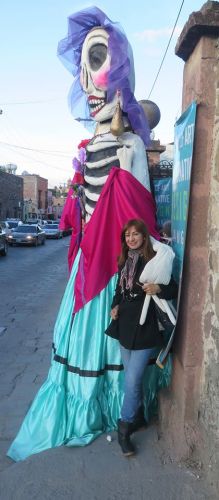 Many of the neighborhoods in San Miguel de Allende are multiracial neighborhoods. You may find Canadians, Mexicans, Americans, Australians, Germans and a significant number from South America. There's a good chance that you will be living beside an expat because most of the colonias have residents from different countries, the majority being Americans.
Most of the places here are peaceful and quiet, that is, of course, when there is no church parade or celebration going on. During these events, it would be noisy due to the festive atmosphere, of course. For those not familiar with the Mexican culture please know we like to celebrate and enjoy life and in doing so we are not so quiet. J
There are no neighborhoods that are even 50% expat; all are mixed to some extent.
(Sonia Diaz with tall friend in San Miguel de Allende.)
Posted February 28, 2018