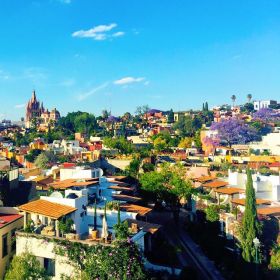 The markets in San Miguel de Allende have everything for everyone. We have three main stores here where you can buy your groceries, Mega Comercial Mexicana, Soriana, and Bodega Aurrera. Bodega Aurrera is more for the working class while Mega Comercial Mexicana and Soriana are more for the middle class and expats, but Soriana is located in a different region of San Miguel.
There are also lots of small markets in the centro or downtown San Miguel de Allende that we call tienditas. Tienditas are very common in Mexico, and you can find one on every corner. You can buy food, a Coke, or ice cream. There is a popular tiendita in centro called Bonanza and they have everything. Tienditas are small grocery stores but Bonanza is a big one, although it is not as big as a Walmart. It's a house that they converted into a grocery store. They have things that you will never find in other places. In small towns there are open markets that sell different products. There are meat stores, a tortilleria (tortilla bakery), a dairy store, etc.
Compared to the shopping in Southern Germany where I used to live, the shopping style here in San Miguel de Allende is very different. Mexicans are more similar to the Americans when it comes to shopping. We don't have a Sam's Club or a Costco nearby but the nearest one is in Celaya, which is about 40 minutes away from San Miguel de Allende by car. Or you could go to Queretaro, which is also about 40 minutes away and you could shop at Costco and buy in big quantities. In Germany and Europe, they have small markets. Germany is a small country that has small towns around the big city. There are no big markets in the little towns and even in the big cities of Germany. There are no stores like Target. They have medium sized grocery stores and they buy from local producers. The biggest shopping centers in Southern Germany are more like Bodega Aurrera, which in Mexico and in the US, is not really big. Also, Germans don't shop in volume because they shop every day. If you go to a German house, you will notice that their refrigerators are really small. They have 3 cubic feet refrigerators because they don't need the big ones anyway as they shop every day. They buy fresh everyday so they don't need a fridge to store their food. They go to the bakery, the meat shop, dairy store, etc. They go to one store for each product unlike in the US and in some places in Mexico where we have places where you can get everything you need. The lower class and some places in Mexico where there are no big stores, they shop like the Germans. Most of the middle class in Mexico shop like in they do in the States, where they buy in bulk from stores like Costco or Sam's Club and store them. I personally go once a week to the grocery store and buy everything I need for that week.
(San Miguel de Allende, Mexico, pictured.)
Posted August 14, 2016