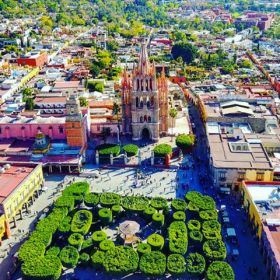 There are about 9,000 expats living full-time in San Miguel de Allende, out of 190,000 total population.
The population of expats tends to fluctuate. Many Canadians, for example, spend half a year here. They come in late October and stay till April or May. These people are called "snowbirds."
On the other hand, there are also people who come to San Miguel to escape the heat. For example, people from Texas start to come in May and stay for as long as their tourist visa is valid, which is 180 days.
There are about the same quantity of expats who come temporarily for the summer as come temporarily for the winter, which keeps the total expat population relatively constant.
San Miguel's elevation is about 6,000 feet, so the summers are very pleasant; not hot at all. Rainy season starts in late June and a favorite time for many. The hottest and driest time is from mid-April until the rains arrive but nights are cool.
(Pictured: Aerial view of parroquia and gardens in San Miguel de Allende.)
Posted February 28, 2018