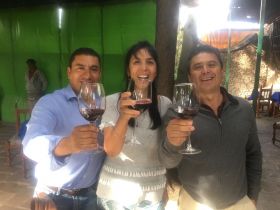 The dress code in San Miguel de Allende, in general, is relaxed but at the same time, we Mexicans like to dress well when the occasion calls for it. So we do not just wear Fit Flops or Birkenstock anywhere.
If you are going to a party, you go nicely dressed; usually you wear something smart casual. If you are going to dine in restaurants, the dress code depends on what kind of restaurant you're going to but in general, restaurants here have a relaxed and cool atmosphere. Mexicans like dressing up to the occasion. If you are here on vacation and you go to a nice restaurant wearing shorts and Fit Flops, depending on the restaurant, they might not give it much attention. But if you're going to a private party and you show up like that, then people might think that you're not respecting the hosts.
If you're coming from the US and you have never been to San Miguel de Allende before, you could pack some nice dress, but nothing fancy. A little black dress is never wrong. You could also pack some nice heels and a shawl. It tends to be cool here even in summer. You could also pack shorts, jeans, white shirts and boots. For men, definitely a jacket is really nice. In general, you should have at least a couple of nice outfits, nothing overboard, and the rest of your clothes should be just very relaxed types of clothing.
It's not unusual to see people wearing full on jackets here during November and December because it can be really chilly and you will be cold if you just wore shorts. However, there are some crazy days in the middle of December where it is sunny and in a few hours, it will be chilly again because of the breeze.
(Jet Metier of Best Places in the World to retire offered a glass of wine by patrons at the hacienda restaurant Rojo Vivo, San Miguel de Allende, Mexico, pictured.)
Posted February 08, 2017