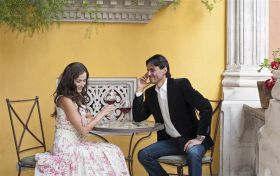 Readers, you'll find that while the dress code here in San Miguel de Allende can vary widely depending on the event, the dress code is generally more casual. This is not a beach town, however, so shorts, flip-flops and the like are more the exception than the norm.
We only have about three tuxedo-optional fundraisers per year here for example, so your tux will get little use! The Mexicans are always a bit more elegantly dressed than most expats here so step up your game a bit—they love to see you well dressed!
Here's a photo of a couple of the more elegant models in San Miguel!
Posted April 15, 2017