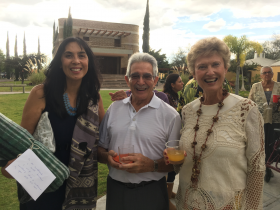 I have been coming to San Miguel de Allende for 20 years, and living here for six years. Until the past 10 years, I never saw a woman in slacks. All women wore skirts or dresses. I never saw a young girl in shorts. The young girls never even exposed their legs. Now, for the past seven or eight years, or maybe more, it's very common to see women, especially younger women, in slacks. That's one of the differences I've seen. I see more young women in very tight, spray-painted pants and in shorts. Every year that gets more and more apparent.
If I were to advise friends about the dress code in San Miguel de Allende, I'd tell them to wear their typical casual clothing that they wear in the States. For my granddaughters, I tell them no short shorts, or that they can wear shorts, but no extremely short skirts. Although I see young Mexican teenagers and twenty year olds in short skirts, I still see the difference when a young American female wears short shorts or a short skirt.
When American women and young females wear short shorts or skirts in San Miguel de Allende, you'll hear the whistles from groups of men in particular who are also laughing and pointing. One of my granddaughters wore what I would call half-sundresses- very short skirts and very low necklines five years ago, and she would ask me, "Why do they keep making that sound? Why do they keep making noises when I go past them?" So we had a discussion, and she wore different clothes after that. She was happy because they weren't making noises and staring at her anymore.
There are very few opportunities to dress up in San Miguel de Allende, but I have also seen this changing. Typically, 10 years ago, when you went to a nice restaurant in San Miguel de Allende, all the women were dressed, and men had on sport coats or suits, but you do not see that now. Weddings are still very dressy occasions, so if you're going to be invited to a wedding, or to a quinceañera (a girl's 15th birthday celebration), then you can absolutely dress up and wear heels, beautiful dresses, and the jewelry. Men might want to have a sport coat or a suit for one of these more dressy occasions in San Miguel de Allende, but otherwise, a polo shirt or a short-sleeved sport short is enough.
(Jet Metier, Mary Agnes McKay and her friend at an anniversary party, San Miguel de Allende, Mexico, pictured.)
Posted January 10, 2017