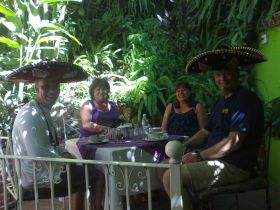 The cost of living in Puerto Vallarta is cheap. If you made $50,000 here in Puerto Vallarta, it's like you're making $100,000 in the US. Everything costs half- from services (i.e., housekeepers, etc.) to goods. Even if you're not making a lot of money, everybody can afford such services. For example, I don't know too many people in the States who can afford a housekeeper.
In Puerto Vallarta, you have great services without spending a lot. My wife and I talk about it all the time. Because we have housekeepers, we're allowed to go to out to dinner all the time. In the States, babysitters charge $15- $20 an hour, but it's just not worth it. In Puerto Vallarta, money is never an issue because everything's inexpensive, so you get more liberty to do things like enjoying dinner outside often.
When we go out, we have housekeepers whom we're paying 40-50 pesos ($2 - $2.50) an hour. While we're out, in addition to taking care of our kids, our housekeepers will also clean the house. We'd come back from the movies, and not only are our kids fine, and not only do we have to pay only around 200 pesos if we were gone for about four hours, but our house is also clean. In the States, the housekeepers would never take care of your baby, too, in addition to cleaning your house. It's good to have both a housekeeper and a nanny at the same time.
(Enjoying a meal out with Vallarta Food Tours, Vallarta, Mexico, pictured.)
Posted March 30, 2017