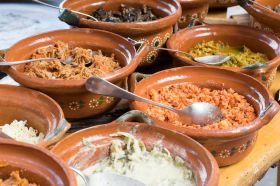 The restaurants here in San Miguel de Allende are excellent. We have a wide variety of food and we have price levels for all types of budgets. You could go to a
taqueria
(taco restaurant with informal seating) and get two tacos and a soda pop for $60 pesos (US $3.25). I like to go to the
taqueria
once every few months.
The next level would be a restaurant with formal dining, where a waiter comes to serve you. These are normally family-run or locally-owned restaurants in the medium price range.
We have good Thai, Spanish (tapas), seafood, Mexican, and fusion restaurants in San Miguel. Prices at a medium-range restaurants would run $120 to $160 pesos a plate (US $6.50 to $8.50). Wine by the glass is $80 - $120 pesos (US $4.25 to $6.50).
We also have several international chefs that live and work here. Prices at the Rosewood Hotel restaurant, a renowned international hotel, run around US $50 a plate. Now, if you were in the States, you would probably pay double for what you could get for the $50 plate at the Rosewood Hotel here in San Miguel.
Where one chooses to eat has to do with comfort & pleasure. Not every expat would be comfortable eating at the taqueria. For US $10 you can eat very well in San Miguel.
(Brunch at the Rosewood Hotel restaurant, San Miguel de Allende, Mexico, pictured.)
Posted June 14, 2016