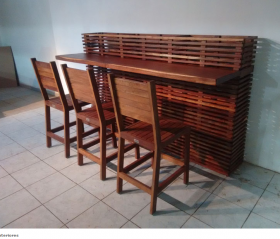 I have furnished two homes in Mexico in the last five years. One is in Puerto Vallarta. My advice is very simple:
1) Buy all of your furniture in Guadalajara, or have it made by a reliable carpenter. The furniture in the local stores is either overpriced, of low quality, or both (as in Liverpool). By the way, I employed three different carpenters for my Puerto Vallarta home, and have already gone through five in my other home. Whereas I believe that contractors in Mexico are generally more reliable than in the USA, carpenters here are a strange breed. I speak Spanish well, so communication has not been the problem.
2) Don't buy any furniture that has any part made in pino (pine). It is a very light, porous wood, and we have termites in Puerto Vallarta. There are many local tropical woods that are much better -- primavera, rosamorada, parota, etc., that are much better for a tropical climate. Cedro (cedar) is also an excellent wood for this area, but can be more difficult to find. No good carpenter will recommend pino for a client from the north.
(Wood patio furniture from Guadalajara, Mexico, pictured.)
Posted June 02, 2017