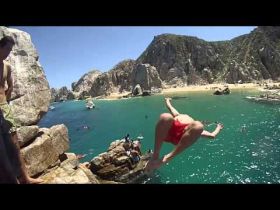 The lifestyle in Los Cabos – La Paz is really fun. The sun shines almost every day. It's a medical fact that a person's state of mind is more open and happier when the sun is shining than when it's dismal, so we get a lot of people who go to southern Baja or the southern parts of Mexico just because they want to escape the doom and gloom of the rain, snow, and the cold elsewhere.
The Mexican people are fabulous people. They're so friendly and open. When they say, "Mi casa es tu casa", which means "My house is your house", they really mean it. One thing that I had to adapt to was people just showing up at my doorstep without letting me know that they were coming. Living in the United States, if someone shows up on your doorstep without saying they're coming, it's rude.
In Mexico, people just stop by to say hello because they're in the neighborhood. When this happens, be gracious, invite them in, and always offer them something to eat or drink just like the old-fashioned times of our grandparents in the United States and Canada. That's what our grandparents did generations ago; and in Mexico, they still do that.
I was really surprised when a lady friend of mine from La Paz showed up at my doorstep one evening with her daughter, who she was dropping her off to spend the weekend with me and I didn't even know it. I was taken aback, but then I realized that's just what people do. "I'm in town. I'm going to stay with you," and the mother took off. I thought, "What if I was gone or somewhere else for the weekend and they showed up and there was nobody home?" Mexicans are wonderful people and very open.
It is easy to lose track of what day it is because every day is a beautiful day. La Paz and Cabo San Lucas get only about 10 days a year of rain so you get really used to sunny days and it's easy to lose track of time.
The locals are different on the highway so be careful when you're driving. There's no formal driver's education in Mexico. As an insurance agent, I gasp and tell my people to be careful when they're driving and keep to the right on four-lane highways. In some states in the United States, people are more used to using all of the lanes when they drive. The signs in Mexico do say in Spanish, "Keep right unless you were passing." For your own safety, do keep to the right unless you were passing and watch when you're passing someone else because sometimes they're not using their rearview mirrors and they might make a left-hand turn or change lanes without a signal.
The courtesy that is extended to you on the streets, in the home, and in shops is not the same courtesy that you're going to find out there driving. That's my only negative warning; to be careful on the road.
When you live in the La Paz and Cabo San Lucas area gringos reach out when you go alone in bars. If you're going to hang out in that if you're you're lonesome, don't know what to do with yourself, and you're all by yourself and you want to go talk to some gringos, there's always a bar or two with a gringo hanging out who is willing to engage in conversation. Just don't be that guy who's there every afternoon because that could get you into trouble.
Another warning is that there is mañana syndrome in Mexico so you have to take a deep breath when you call for a plumber, electrician, or mechanic because their attitude about these services is just different. I would advise to ask your friends and new neighbors who to recommend for electrical repairs, plumbing, cleaning, mechanics, and stuff like that. Sometimes people will tell you they're coming over and they just don't show up, which can be very frustrating if you let it get to you.
It's a different culture. It's a whole different way of life so we need to adapt to their way. It's their country. Be respectful and not expect everything to be run the way you would expect it run wherever you're from, the United States or Canada. Like I told a few people who were complaining about the mañana syndrome and say, "They don't show up. They're always late." If that really bothers you that much, then maybe you should have just stayed back home because there are certain things that we just have to adapt to.
Make the old Ben Franklin list of all the positive things on one side and the negative things on the other side and if you do that about your life in Mexico, I'm sure you're going to find that the positive side is going to be a lot longer than your negative side.
(On the rocks in Los Cabos, Mexico, pictured.)
Posted June 02, 2017