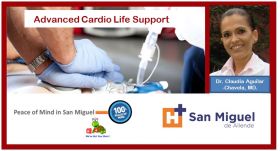 There are three levels of medical facilities in Mexico. All three are based on the size and population of the city. Level one would be a clinic where people are cared for by nurses and general practitioners on staff. Level two would be a hospital with emergency care facilities with limited specialty medicine diagnostic equipment and only some of the specialty medicine doctors available. Level three facilities refer to hospitals with full-time medical specialists, diagnostic equipment, and medical care.
Here in San Miguel, with a population of about 180,000 people, we have access to level two facilities --both clinics and hospitals. What this means is that most of the doctor specialists come from Querétaro or Celaya a few days a week. Some are on call for medical emergencies. For instance, when a patient needs cancer treatment or heart tests, they have to go by car or an ambulance to Queretaro, one of the major cities that's one hour from San Miguel.
When comparing the quality of healthcare here in San Miguel de Allende with the quality of healthcare in the US, we can make two distinctions. One is the actual quality of healthcare and the other has to do with comfort (and the trust that goes with it) and being able to communicate. The quality of medical services here in San Miguel is excellent. I believe that a lot of that perceived excellence has to do with the people's level of comfort and their ability to understand Spanish. This level of comfort & trust is a key factor in determining whether or not people like or dislike the medical services here.
We have a lot of bilingual doctors here. Most have studied medicine or taken medical seminars in the US. Doctors here in San Miguel and in Queretaro receive patients from all over Mexico and the world. They are that well-known.
Why do some people prefer medical care in Mexico? Doctors here are very well trained and take very good care of their patients. They spend more time with their patients than doctors in the US & Canada. Patients can reach them on their cell phones. The local private hospitals are equipped with some of the most modern diagnostic equipment. If I were to compare the care I received in Northern California and here, I would say I prefer the care I have received here. Doctors are kind, well-trained and they listen to their patients. They also take all the time needed to review medical issues.
(Claudia Aguillar Chavela, MD, Medical Director of our major hospital H+ San Miguel de Allende, pictured.)
Posted May 13, 2016