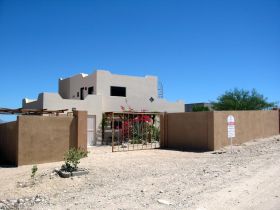 There are definitely hurricanes in the Los Cabos and La Paz areas. The biggest hurricane we've had was Hurricane Odile a few years ago. We've had about eight hurricanes in the last 20 years. The most damage our house has endured was getting one broken window. We're prepared for hurricanes by installing shutters on our windows.
The storms usually don't create a lot of damage. Odile, which went through San José del Cabo, was not a pretty sight at all. We're on the east side, and hurricanes normally track north or northeast. Normally, the hurricanes track and go up the Pacific side and do not come up the Sea of Cortez. There is an occasional one that does, and the ones that do go up the Pacific side will bring a lot of rain to us. We always find the rain lovely.
There is a big issue with flooding in the Los Cabos area because of the only 4 - 6 inches of rain we get in a year. The big issue is with the lack of vegetation. This is because the rain that falls goes straight to the ocean. It's not like a place with lots of vegetation where there's absorption that slows down the flow of the water into the ocean.
Most of the construction in the Los Cabos area is designed with flooding in mind. Los Cabos has a very good emergency government preparedness program. The government knows where the dangerous spots are in the Los Cabos area. When the government and residents of Los Cabos see a rainstorm coming, they immediately go out to communities that are in danger zones and evacuate people to schools or high ground.
We felt a couple of tremors as well since Los Cabos is located near the Sea of Cortez, which is the extension of the San Andreas fault. All earthquakes in Los Cabos have been minor. Los Cabos is around 67 miles from the San Andreas Fault. The fault pushes us apart by millimeters a year.
If you look up "US Geological," you can see that earthquakes are quite common down the fault. We've only had minor earthquakes in Los Cabos, and we've been living here for 21 years. During the first earthquake I've experienced in Los Cabos, we were in La Paz when the light started swinging. It felt like a truck was rumbling down the street. Luckily, there was no damage.
(Steel-framed, off the grid home, East Cape, Baja California Sur, Mexico, pictured.)
Posted November 07, 2017