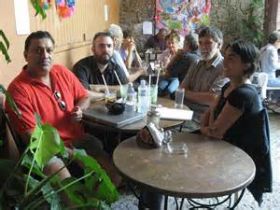 An average meal in a mid-level restaurant in San Miguel de Allende will probably cost 150 pesos (US $8) per person. With a couple of cocktails, the same meal would cost around 300 pesos ($18) per person.
The restaurants that most Americans and Canadians frequent here in San Miguel are mostly mid-scale restaurants that offer a combination of American and Mexican food. For 100 pesos ($6), you could order chicken enchilada with red or green sauce. The side dish would either be rice or beans. You could also get a Caesar Salad with chicken for 120 pesos ($7). If you want eat at a white tablecloth restaurant, it would probably cost between 220 to 250 pesos ($12 to $14) per meal per person.
Here in San Miguel de Allende, chain restaurants are not allowed in the historical district. Individual business owners own all the restaurants here and each restaurant is unique. Most of the restaurants cater to both the Mexican and the American crowds because along with our snowbirds, and American, Canadian, and other English-speaking expats, we do get a lot of Mexican tourists, who come to San Miguel for long weekends. That's why most of the restaurants have a combination of different foods.
Overall, the cost to eat at restaurants here in San Miguel de Allende is about half the price compared to restaurants in California.
(Dining room at the public library in San Miguel Allende, Mexico, pictured.)
Posted May 12, 2016