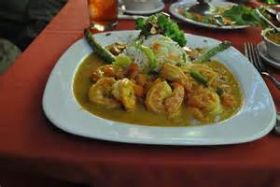 It is not safe to drink the water from the tap anywhere in Mexico. Every home here either has water delivery or a water purification system installed in their home. The water delivery trucks come every day, ring a bell out in the street, and people come out to buy purified water from them. One 20 liter bottle (about 5 gallons) costs about US $2.
When we buy produce from the markets, we disinfect it when we get home. I do the same when I go to the US now, too. People use microdyn drops that you can buy at all the stores here. Other people use bleach or vinegar as a disinfecting agent. Myself and all of the foreigners I know use bottled water to brush their teeth, because most of us have had bouts of amoebas and parasites. We use the purified water as a preventative measure.
The concern with the safety of restaurant food here is not so much about the water, but about the heat and the lack of food safety and sanitation. For instance, food is not always refrigerated soon enough during the summer months. People here suffer gastro intestinal issues at all kinds of restaurants, not just as a result from food sold on the street. It doesn´t matter how high quality the restaurant is. Gastro intestinal ailments where people get sick after eating at restaurants happen more during the summer because of the heat, so you have to be careful of what you eat regardless of where you eat. I taste the food before I begin diving in. By the way, all restaurants here use purified water, so it is safe to drink the water and eat the ice.
Mexico is the largest consumer of bottled water on the planet. All Mexicans drink bottled water and do their cooking and washing of fruits and vegetables with tap water. Overall, taking precautions when drinking water is not a big problem here; it's just a part of life.
(Sri Lankan food in San Miguel Allende, Mexico, pictured.)
Posted May 10, 2016