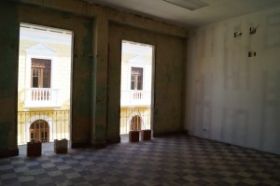 Electricity is not a reliable thing in Panama City in general. Casco Viejo used to have electricity issues and after many years, we had a big project where they lifted all the streets and they replaced all the cable, so now we have brand new fiber optics and new electricity cables. They put the streets back so we also have new streets.
That said, I would not say the electricity is 100% reliable, but it isn't different from other places of Panama. Most people would have to get a surge protector, which regulates the incoming electricity, so that it does not burn your appliances.
We do have electricity; we are not in a rural area. We do have Internet carried on brand new fiber optic cable.

In Casco Viejo in a typical month, a blackout probably occurs once. So the problem is not with the blackouts, because we rarely have those. The problem is the spikes in the current. For example, you may leave on a Friday and you come back to the office on a Monday and all your telephones are blinking because there was a spike at some point on Saturday. That's why you need the regulator. If the electricity goes out, there's a major situation somewhere and the electricity company is working on it.
Casco Viejo's first office building, El Colegio, formerly a girls school, pictured.)
Posted January 26, 2015