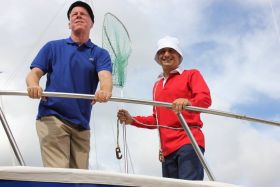 Puerto Vallarta is such a friendly place (not just the Mexicans but the people who "get" Puerto Vallarta) that it's so easy to find friends and create circles of friends.
There are lots of events going on all the time for people to attend and to help. There are a number of charity groups here that have incredible people who spend a lot of their free time helping others. There are a lot of things that you can get involved with in the community and feel part of the community when you're here.
Many times when people reach retirement, they want to be active, they want to remain doing things, they want a good reason to get out of bed in the morning and go have some fun. Puerto Vallarta offers that to retired people, which is one of the reasons it's been very popular for retirees.
(Characters from Gilligan's Island for a charity event in Puerto Vallarta, Mexico, pictured.)
Posted May 10, 2016