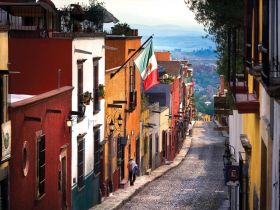 If I compared my own cost of living here in San Miguel de Allende to my cost of living when I lived in Sonoma, the cost here is about one third.
I have been able to find affordable housing in San Miguel de Allende, because I am completely bilingual and bicultural. Most expats rent in US dollars because accessing the Mexican housing market requires having a high level of Spanish language skills. Usually, expats pay more when they first arrive and later learn how to find better deals by connecting with local expats.
I rent a house here. I have a Mexican landlord, which makes a difference, and I pay rent in pesos (the equivalent of US $450 a month) for a three-bedroom, two-bathroom home in a safe neighborhood that's within a 10-minute walk to downtown. My landlord has not raised my rent in a while. Since I moved in, the Mexican peso has devaluated against the dollar. Most landlords are aware of this and have raised peso prices. Normally, for a house like this, one would pay about $900 or so a month.
With regard to food, I pay roughly $50 a week at Mega, one of the grocery stores in town. This amount is for two people. I buy my fish and poultry at the other locations in town---another $20. My groceries would have cost me about $200 a week in Sonoma, California.
To go see a doctor costs about $35 to $40 depending on what kind of doctor you need to see. Doctors in Mexico are on cash basis only. They don't take credit cards and they don't take insurance. You have to pay up front and then turn those bills into your insurance company if you have insurance. The average doctor's visit is 30 to 50 minutes. Even for that low price, you get more quality time with your doctors here.
(San Miguel Allende street over looking the town, San Miguel Allende, Mexico, pictured.)
Posted May 09, 2016