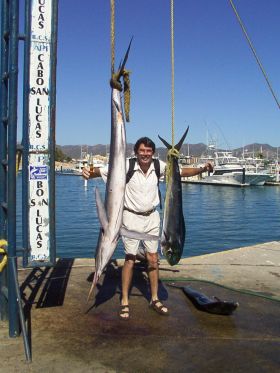 The expats in Los Cabos – La Paz are very nice people. Grumpy people would stay home anyway. It's very rare for you to meet a grumpy expat living in Los Cabos and La Paz because people are happy that they found a new lifestyle.
For retired people who have fixed incomes, La Paz would be a better place to live than Cabo San Lucas. San Jose del Cabo would be a better choice than Cabo San Lucas just because there are different economic demographics like how much rent is, how much buying a home is, and the price of restaurants.
One thing I noticed is that because there is a Spanish school in La Paz, which is called "Se Habla" (one speaks), more of the expats in La Paz are studying, practicing, and using Spanish within the community. This practice of expats speaking in Spanish is much less in Cabo San Lucas, although people in San Jose do try a little bit more to speak in Spanish. There is no formal Spanish school that I know of in Los Cabos.
If I have advice to give anyone moving to Mexico, whether there's a school in the area you're moving to or not, it would be to buy books and to enroll in online programs where you can study Spanish. Even the least bit of Spanish that you speak is going to be graciously accepted and would open a whole world for you of more friends that you can make within the community.
People will never laugh at you for making mistakes. When I was learning, I made some huge mistakes. Even when I said words that were not nice words just because I put an "e" or an "o" and mixed them up, no one gasped and they just politely said, "The correct word for that is this," and we went on.
The expats in Los Cabos and La Paz come from all walks of life. You can meet people from any walk of life down in Los Cabos. The guy with the ratty shorts and t-shirts with holes in it could be a multi-millionaire and you would never know because you just can't judge people by the way they dress. We should never do that anyway. Talk to people and find out how they are and if you have something in common or not. Generally, the expat communities are very nice and extremely generous in helping out the Mexican community.
(Sports fishing, Cabos San Lucas, Mexico, pictured.)
Posted June 08, 2017