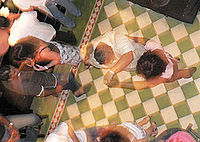 The number of foreigners who live in Puerto Vallarta varies depending on the season. In the high season, the quantity of foreigners in Puerto Vallarta reaches into the thousands. In the low season, there are a few thousand or so foreigners.
The expats in Puerto Vallarta aren't just in their homes. They are up and about and you run into them everywhere. If you're walking down the street, you would see Canadians, Americans, Japanese, and Chinese. It's hard to tell South Americans from Central Americans because they all speak in Spanish, but if you listen carefully then you'll hear the different accents and distinguish if they're from Venezuela, Colombia, or wherever. People from Germany, Holland, and France visit Puerto Vallarta all the time for tourism. Foreigners are walking around enjoying the sunshine and the environment.
There are a lot of places to go and things to see and do in Puerto Vallarta. There are establishments that play music where you run into foreigners all the time. I'm a musician who plays the keyboard and I'm also in a band. There are bands and groups playing everywhere almost every night in Puerto Vallarta. They play different music genres from jazz, classical, and Mexican to rock and roll and punk.
The city government of Puerto Vallarta hosts events all the time. They would have festivals for music or art. Most of these are free and open to the public.
There are so many different restaurants in Puerto Vallarta. You would run into people in restaurants, too.
(Salsa dancing in Puerto Vallarta, Mexico, pictured.)
Posted October 10, 2017