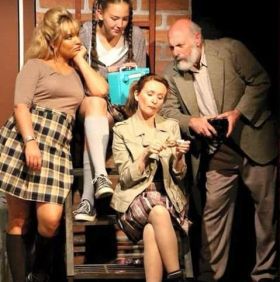 Americans and expats in general are treated wonderfully in San Miguel de Allende. The expat community has been in San Miguel de Allende since the late 1940s or early 1950s.
The expats have done so much for the local Mexican community that I doubt that there's a Mexican family who has not been touched by the generosity of the non-profit organizations in San Miguel de Allende that are run and funded by expats. These organizations help with everything like eyeglass provision, free dental clinic visits, donation of computers for the youth, sending the youth to school, feeding the hungry, and establishment of old folks' homes and hospices.
Jim, my husband, established the theater called "The San Miguel Playhouse" in San Miguel de Allende. It's the only non-profit, non-government supported theater here and is for people who love the theater and what the theater is doing. I act in this theater.
Jovenes Adelante is a "youth forward" organization that does a lot of work with the youth like supplying computers, offering scholarships, helping with the local S.P.A. (Sociedad Protectora de Animales), which is the only non-kill animal shelter in Mexico. This organization is established and run by foreigners. It touches every walk of life in San Miguel de Allende.
There have been so many things set up on a non-profit basis. Someone told me that there are about 80 non-profit organizations in San Miguel de Allende run by expats. The Mexican community has a great affection and trust for the expats because of the charity work that they do.
(Little Shop of Horrors performed by The San Miguel Playhouse, San Miguel de Allende, Mexico, pictured.)
Posted July 17, 2017