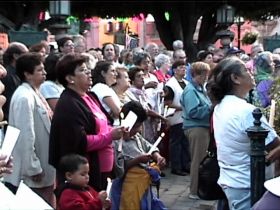 I think a lot of how foreigners are treated anywhere has to do with their foreign predecessors. The enchanting sort of frozen-in-time character of San Miguel in the late 30s and 40s started attracting many iconic Mexican and foreign artists, writers and actors, joined by World War II veterans who got GI Bill money for education and either could live like paupers, barely surviving in the United States off of what the GI Bill would give them, or they could come to San Miguel, attend an international credited college studying art or Spanish, and afford to have a maid. Not entirely unlike like what's economically attractive to many of today's retirees here.
Fortunately for us here today as well as those of us yet to arrive, the assimilation and community involvement of the overwhelming majority of foreigners who've chosen to live in San Miguel during the past century, has and continues to result in the extent to which we are warmly welcomed and well treated here. There's even a street that the city named after a gringo author who moved here in the mid 30s, who worked tirelessly to help the local community, and did a lot to popularize San Miguel. 
San Miguel de Allende has more non-profit organizations per capita than any city in Mexico, providing food, shelter, education, and an ever-growing number of other community services. The public library started here by foreigners as well as locals back in the 50s now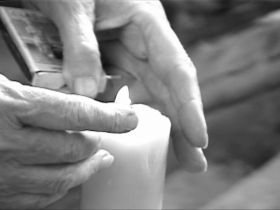 has more than 60,000 volumes in Spanish, English, German and French, offers many lecture, film and theater events, in addition to granting scholarships to young students and sponsoring numerous cultural activities.
Like any place where the local economy is primarily dependent on tourism, you have opportunists here from Mexico and elsewhere who might unscrupulously participate in the related financial harvest. And it could be alleged that some professionals, shopkeepers, service providers, etc. might quote a higher price to gringos than to Mexicans. But I think you could find comparable price differentiation in any similar marketplace. 
After the 9-11-2001 attacks occurred in the US, having been further shocked by TV images I saw showing the specter of celebrations appearing in some parts of the world, I can't describe how comforting it was here to be blessed with participating in what today I suppose would be called a flash-crowd event in San Miguel's main plaza, predominately attended by indigenous members of the community manifesting their solidarity with the Americans here.  
They had taken some white material like Styrofoam cups, and cut out little doves they tied on string to create necklaces, which were distributed along with candles we lit one with another.
Whatever's going on in the world today, looking back at the history of the relationship between the United States of America and Mexico, I could imagine an argument for shooting us gringos on sight. But, instead, it's been my observation that most people here tend to give others a chance to show who we are as fellow human beings before deciding how to treat us. 
Right now, I am getting to do some explanatory work with my close Mexican friends regarding the Donald Trump phenomenon, what with his likeness having recently become a popular piñata that I haven't seen being filled with sweets, but like I've said, for the most part here we're not held responsible for transgressions not our own.
Specifically with regard to retiring and aging here, the culturally inherent respect and admiration with which older folks here are treated is something I wouldn't know where to find in such abundance elsewhere.  
Pictures:
Crowd in San Miguel de Allende after 9-11
Peace candle in San Miguel de Allende Jardin after 9-11
Posted May 08, 2016