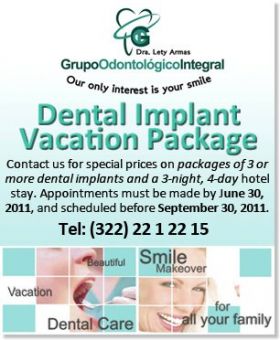 Dental care in Puerto Vallarta is excellent. The dental facilities are modern and up-to-date. The equipment used for dental care and treatment is modern, whether it's for individual pieces or plates for permanent or temporary replacement.
I get all my dental care done in Puerto Vallarta. I've been seeing the same dentist ever since I arrived in Puerto Vallarta.
The dental cost in Puerto Vallarta is a tenth to half of what the dental cost is in the United States. A dental cleaning costs 100 pesos (about US $6). If I need something done that's more involved like fillings, caps, or crowns, the cost is about 1,000 pesos (about $56), which is very inexpensive.
A good dentist is one who tries to preserve your original pieces for you. These are the kinds of dentists you find in Puerto Vallarta and they do good dental work.
People ask, "What's the timeline about making dental appointments?" It is usually the same day or the next day.
(Ad for a dental clinic, Puerto Vallarta, Mexico,pictured. )
Posted October 10, 2017