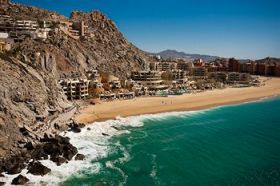 I rented a two bedroom, two bathroom apartment here Cabo for US $250 a month. The next level up from that would be the area where I live right now, which is a 5-minute drive outside of town, which we call "the Corridor" because it is the corridor between Cabo San Lucas and San Jose del Cabo. The homes here range from $600 a month to about $2,000 a month. We have 96 units in the complex and four pools here so we are a little bit unusual from some of them having a smaller complex and having that much in amenities. For $600, you would get a two-bedroom, and one-bathroom.
Where used to live, I had a patio and a roof terrace. For $650 you would get a two-bedroom, and two-bathroom unit. I recently moved across the street and my unit has the same basic layout but it has three bedrooms and three bathrooms. I have two master bedroom and a guest bedroom with a hall bathroom, and I have an extended patio area that's very big. I pay $800 a month for this new one. From the roof terrace, I have a view of the Sea of Cortez, the bay, the entire town, and the arch. My area is known as a very Mexican, middle-class neighborhood. We have a good mix of both Mexicans and expats who live here. This area also has a lot of Mexican owners but they lease their properties. There are a lot of investment properties here, where they either lease either back to Mexicans or to expats.
In the same place, and for $2,000, it would probably be a three to four-bedroom, two-story house that has two to three bathrooms. The amenities might be upscale so instead of having just the regular tiled floor, it may be marble of they might have put decorative tiling in. Instead of a tiled countertop, it might be granite. These houses are in a safe area with a 24-hour live gated security.
99.9% of the apartments that you are going to rent here are going to be furnished, mainly because nobody wants to move their things out if they have already been in here in order to rent it. When I first moved to Mexico, the apartment that I rented was unfurnished so I furnished it myself. So when I made my first move I looked specifically for a place that was unfurnished and it was really hard to find one.
While furniture is usually included in the rent, utilities are extra. Sometimes if they already have an Internet connection, they will say that they will include Internet in the rent. Some will include water, but you will always pay for your electricity. If there is LP gas then you pay your own gas. Depending on where you live, because of that tiered pricing structure that we have for our utilities, if you are in a place like where I live now, which is a very nice area, then your electricity rate would be higher.
Our area is very nice. There are a lot of places like this along the corridor but there is significantly a difference as far as the tier in rent as you go because it just depends on the property, the location, etc. There are also complexes that are developments that have single-family homes. You might not be directly on the sea but they have beaches to go down from the complex.
There is one very well-known upscale area called Pedregal, which is a huge a very wealthy area. The homes in Pedregal go for three quarters of a million and up. Then it goes from units looking over the marina on the Sea of Cortez side over to the Pacific Ocean side. I had a friend who rented a studio apartment there, which is located within a house, and she was paying $1,500. To rent the full house could run anywhere from $3,000 to $10,000 a month depending on the amenities. These are 10,000 square foot homes that have their own infinity pool, etc.
(Pedregal near Cabos San Lucas, Baja California Sur, Mexico, pictured.)
Posted May 08, 2016