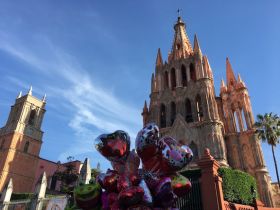 What I find most appealing about living in San Miguel de Allende is the heart of most of the people of Mexico, and the climate here in this spot of Mexico's central highlands. 
In San Miguel de Allende, what would be a 5-minute walk if uninterrupted can take me at least 15 minutes because of the people who stop you to chat on the street, and strangers often greet you with a sincerely pleasant, "Buenos días," or "Buenas tardes," depending on the time of the day. Strangers walking near your table on their way in or out of a restaurant will commonly say to you, "Buen provecho", as they pass by where you're seated, wishing you an enjoyable meal.   
The climate that greatly attracted me to live here has now spoiled me! To me, the worst month is May, the warmest month of the year, when the temperature sometimes gets up above 90° F, but fortunately, although we get generally get some rain ever month, the humidity is usually only around 30% to 40%. So it is not like on a 90-degree day in Austin, Texas, when you walk out your door and feel like you've walked into a wall of heat. 
In San Miguel, because of the low humidity here at around 1,870 meters (about 6,200 feet) above sea level, the relatively mild temperature extremes are not nearly as unpleasant as I've experienced just about everywhere else. 
During the few months of winter, the temperature occasionally drops below 40° F, so most homes have fireplaces, but it doesn't take much to keep it warm indoors because of the insolation provided by the materials used in construction here. For this reason, most homes in and around San Miguel use fans for some air circulation in warmer months, but do not need air conditioning.
Most of the year in San Miguel de Allende it is warm enough for t-shirts during the day, and cool enough at night for a light jacket, and maybe a fire in your fireplace.
To me, one of the most frustrating things to become accustomed to here is the frequent lack of promptness in general, and the tendency toward lack of directness in communication - what I've heard referred to as the Mañana Culture. "Mañana" translates into "tomorrow" or "morning", however in application it can also mean something like, "I am not going to be rude and say 'no' so I will say 'mañana' and maybe I will do it. We'll see tomorrow." This has been tough for me to acclimate to. I've heard it said that Texans don't like people "Pissin' on their boots and lookin' up at the sky like maybe it's just rainin". 
Here, it's generally inappropriate to be absolutely direct in a negative context. For example, if you become aware that a worker is stealing, you might meet with them and say, "I am sorry but we've run out of money for our project and we just can't afford to pay you anymore, but we appreciate the work you've done and of course if we get more money we will call you." Handling it in this manner, ideally, they go away, and by letting them "save face" you haven't defamed them and made an enemy. It is really weird to me because I prefer to be "straight up" but I am starting to understand the advantage to this living in a small city where you're likely to see everyone again, and even if not often, maybe sooner than later.  
The systemic lack of adherence to time commitments and lack of apparent organization are two things that will make you say, "What the heck!" The difficulty of getting things done here, particularly bureaucratically, is another challenge. I say the most commonly heard expression in the bureaucracies here is, "Oh, didn't we tell you?" You think they told you everything you need to do, but when you come back with what you thought was everything requested, it seems almost deliberately often that there's at least one more thing.
If you were diagnosed as a Type A personality, I think Mexico would be the place to come for the most intense immersion therapy that you could possibly get! 
(Pictured: Balloon hearts near main church in San Miguel de Allende.)
Posted May 06, 2016