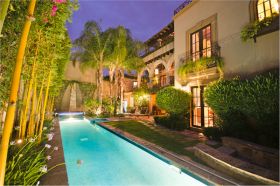 Readers, you will find San Miguel de Allende to be like much of Europe: land within the most popular areas of this 475 year old city remains rare and becomes increasingly costly, meaning lots tend to be small and homes tend to be vertical. Speaking to you as a Realtor, I can share that our record price so far for land in the historic Centro has been $2,000 USD per square meter (about $2 million for a quarter of an acre) but of course prices become more affordable the further from Centro you look (it's the old supply and demand equation, everyone wants to be in Centro!).
Land in areas of town that would still be considered safe neighborhoods can run as low as $250 USD per square meter (about $250,000 for a quarter of an acre) , allowing you to buy a larger lot like the one shown here and have grand gardens and a pool.
If you're looking for a lot to build a home, work with a Realtor that can steer you to the right neighborhood for your specific budget.
Posted April 18, 2017