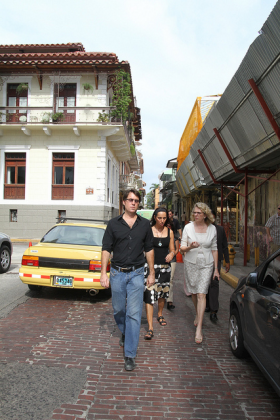 The dress code in Casco Viejo would be light clothing and comfortable shoes. It is better to wear light clothes and sports shoes because you would be walking a lot in Casco Viejo. The buildings are old and if you want to go inside the ruins, it would be dusty and dirty. Panama is a hot country so wearing light clothing is preferable.
If you are going to church, there might be some churches that will not allow you to get in wearing shorts as a matter of respect for the place.
Most tourists where shorts in Casco Viejo; they wear Bermuda shorts. Locals dress a little differently from tourists. When I go to work, I do not wear open-toed shoes. Sometimes I wear flats or platforms. I use skirts or pants but they are all relaxed clothing. I sometimes wear dresses but they are still all made of light fabric. It is important to wear clothes that are not going to be uncomfortable to wear in a hot climate.
During the evenings, you might see some people dressed up for dinners in the restaurants here in Casco Viejo. Some restaurants here in Casco Viejo have dress codes. As an example, Grapes, which is a restaurant here, will not let you in if you are wearing shorts or sports shoes. Panamanians dress up when they go to dinners here in Casco Viejo.
The dress code also depends on where you are going. Some young people who are going out at night to party could wear shorts and open shoes and the bars let them in. There are several different dress codes here in Casco Viejo if you are coming here for nightlife and entertainment.
(Walking in Casco Viejo, Panama, pictured.)
Posted February 13, 2016