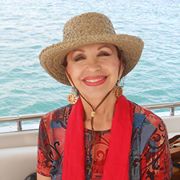 As an elegant lady who loves to get all dolled up, the way they dress in Los Cabos – La Paz is a frustration for me because I do like to get dressed up for events, but the dress code is very casual. If you're going to hang out, you can wear shorts, a t-shirt and flip-flops and just go do your thing. If you're going to go to a nicer restaurant, you can get by with some khaki slacks. You don't need a shirt and tie and the traditional blue blazer and gray slacks. Put on your khaki pants, some shoes that actually close and not flip-flops, and a nice short-sleeved cotton shirt.
For ladies running errands in Los Cabos, shorts and t-shirts are acceptable. In La Paz, it's a little more formal. Even today, I would not be running around the streets of La Paz and would not go inside some of the nice stores dressed super casually. I would wear some nice shorts, a nice short-sleeved cotton blouse, and pretty sandals. Sun dresses are fun for us ladies to wear. I'm known for wearing hats all the time because with all that sunshine, it's good for our skin to wear hats to protect our skin from the sunburn.
Americans and Canadians in Los Cabos and other parts of Mexico are very conscientious about their community, raising funds for the fire department, kids' scholarships, old people's homes, and animals. There are a lot of fun charity events going on where we have a chance to get dressed up.
It would be frustrating for me to go to these charity events because I would go in and have on a nice cocktail dress, heels, and fancy earrings, but all the guys would still try to get away with khaki pants and sometimes they even show up in shorts.
It's a very casual way of living and dressing in Los Cabos and La Paz. You could leave your tux at home. You probably would want to donate all those nice silk ties, but maybe save one.
(Cathie LoCiero in one of her signature hat, Los Cabos, Baja California Sur, Mexico, pictured.)
Posted June 06, 2017