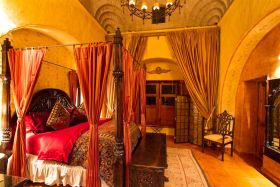 Construction standards are broadly defined, Readers, speaking to you as an architect turned Realtor. Let's talk about what that might mean.
The type of construction here in San Miguel de Allende, as in most all of Mexico, is overwhelmingly reinforced-concrete structural components infilled with red brick or sometimes adobe brick, with cast-concrete floors and roofs. Almost without exception, any wood you see in a home is ornamental (those viga beams we all love are just decorative, for example). That means the homes are uninsulated, which can be problematic in a cold winter if your home was not designed with any consciousness of the solar orientation of the home. Conversely, it has positive benefits: the structural component of a wall is at the top of the wall and usually spans the entire room. If you want to double the width of a door or window, it's easy to do!
However, if you want to discuss construction standards as they might compare to the U.S., there is little if any building code that builders must adhere to as they must in the U.S. You will seldom see electrical outlets placed every eight feet along a wall, seldom see GFI outlets in the bathrooms and kitchen, stair treads considered life-threatening and illegal in the U.S. are par for the course here, handrails are a bonus not an expectation and, well, you get the picture. The homes here are often (although not always) well built, just not to the same standards to which you might be accustomed. The good news is that if you don't like running a 15-foot extension cord across your living room, adding a new outlet is very inexpensive!
Be sure to work with a good Realtor (maybe one who is also an architect!) who will guide you through these issues and expectations, and who can steer you to the best home inspector!
Posted April 18, 2017