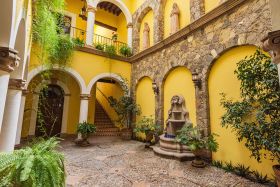 If you are in the historic central zone there are very strict requirements about what you can and cannot do. For example, if you want to paint the front of your building, you have a selection of pastel colors to choose from; you cannot just decide a certain color for your building.
However, in most areas outside the center of San Miguel, we are seeing some contemporary construction, which often appeals more to Mexican buyers for whom colonial style architecture is not such a big deal.
There are height restrictions as well. The general rule is an 8.5-meter height restriction pretty much anywhere that you are building in the urban areas.
San Miguel de Allende also has a construction permitting process. If you are going to construct something, particularly in the city or its suburbs, you need to obtain permits before you are able to build, but out in the countryside you can do just about whatever you want. The permitting process is somewhat similar to in the States. To apply for the construction permit, an architect who is among the officially recognized architects of San Miguel has to submit your plans for approval by the office of Urban Development.
By the time you get the construction permit, you are pretty certain that what you are intending to build is going to be well constructed. Of course a major reason for the construction permits is because when you are done, you have to close the construction permit, and in order to do this the city sends someone to inspect to see that everything was done correctly, and to make sure that the city's assessment of the value of any new construction is recorded in the municipal tax records to increase your annual property taxes accordingly. They also want to make certain that Social Security contributions were paid for the construction workers.
After more than 20 years of being here in Mexico, I can generally look at construction and tell you whether or not there is something to be concerned about, but I usually recommend getting an inspection done by someone reputable who specializes in this.
Often an interesting detail in this regard is the age of existing construction here. Through my international affiliations I am able to get property listings here placed in MLS systems in the US. The related forms always ask for the age of construction, and I wonder what people might think when I have to put the age of construction at 400 years, but frequently at least some of the property's construction is in that age range.
The average gringo probably thinks that the older the construction, the more likely you will have a problem. I tell people that here what I am worried about is any construction that is less than two years old.
The best way I can think of to describe construction here it is to say that it's almost always and all ways a custom job, manually done, as opposed to basically just being assembled from prefabricated materials. The workers usually hand mix the cement right there. Since the construction primarily consists of block and steel, brick, cement, stone, etc., the weight of a home here is enormous. So in the first year or two, a building may experience some settling, and could get cracks where something sagged, but because of the nature of the construction, usually you can just fill in the crack, plaster over it, and you're good to go.
(Courtyard home near the central plaza, San Miguel Allende, Mexico
Posted May 04, 2016