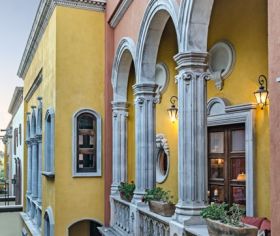 I love this question, Readers! As the only architect Realtor in San Miguel de Allende, I could write another small novel of an answer about the architectural aesthetic of San Miguel.
We essentially have two ends of the spectrum, with varying degrees of interpretation in between. At one end is the very traditional Spanish Colonial architecture, with lots of acid-washed cantera stone artificially aged to look 200 years old, heavy ornamental wrought iron that impresses the eye even without touching it, carved-cortina windows, hand-carved doors, hand-hammered copper sinks, and achingly beautiful cantera stone fountains. Did you see "Like Water for Chocolate?" Now you get the picture!
Now remember, Mexicans have witnessed over 450 years of Spanish Colonial architecture, which is why Ricardo Legorreta and Luis Barragan become "starchitects" in Mexico—they gave their clients the refreshing new look of contemporary architectural style, minimalistic with no ornamental decoration at all, not even a hand rail on the precarious staircase! There are many variations of contemporary now, some more industrial, some more Mexican contemporary (some wood and stone touches, but clean unfettered design).
More likely than not, you will find homes here to be toned down versions of traditional Spanish Colonial, a home that might boast colorful decorative tile in the kitchen next to a stainless steel sink, or a few decorative beams but a cast-concrete fireplace. Mies van der Rohe said "God is in the details"— work with a Realtor who will help you understand the value of those details!
Posted April 15, 2017