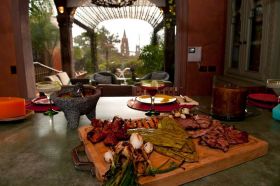 You can get a great, part-time housekeeper here for an hourly wage of around 50 pesos (US $3), which would be quite generous, and around half that much per hour would be considered appropriate pay for a full-time maid. Most people pay their domestic employees in cash.
Rather than being a foreigner who wants to be able to brag about how little I pay for help here, I prefer and encourage paying at least a bit more than what's considered customary.
We have a part-time maid who has cleaned our office for 20 years now, and I am the only employer she has ever had that actually paid the 40% extra for her to be enrolled in and receive the most available to her from the Mexican Social Security system, which includes medical coverage as well as retirement benefits.
Most people with domestic help do not pay for them to be in the Social Security system, and 90% of the employees that I've had in my 20 years here, when you mention Social Security, they would say, "No, no, no, give me the money." So, we give our maid a weekly salary that amounts to about 75 pesos (US $4.54) hourly, which she thinks is great, and in addition to that, we put her in the Social Security system, which does increase your cost by about 40%.
Legally, like for the purpose of calculating over-time pay, 46 hours is considered to be a full-time work week here, which generally consists of 8-hr. days Monday-Friday and 6 hours on Saturday.
Some folks here have live-in help, but generally the maids and cooks and gardeners live somewhere else and come around 6 days a week, depending on your arrangement. Some clean and cook, but most tend to do one or the other, with cooks earning considerably more, and I would pay a good, knowledgeable gardener about as much as an average cook.
I am a consultant for a foreign client I helped to purchase a property here years ago, that he now rents out for US 1,600/night. The maids there are paid 1,100 pesos (US $67) for a 40-hour work week, plus the maximum contribution into their Social Security accounts. The chef there, who does cooking classes quite popular with the guests, is paid 2,650 pesos (US $161) plus Social Security and overtime based on a 40-hr. work week.
(Pictured: Food at Casa Tres Cervezas, San Miguel de Allende, Mexico.)
Posted May 03, 2016