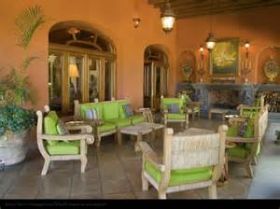 It is normal in San Miguel de Allende to hire a housekeeper for what is called in Mexico, "come in and out"; they don't stay overnight at your house. On this basis, the average cost to get a housekeeper in San Miguel de Allende would be between 250 to 300 pesos (US $14 to $16) a day and normally, you have to hire them at least 5 days a week; from Monday through Friday and pay them by the week.
There are housekeepers who you can hire by the day but they would cost you a little bit more. Hiring a housekeeper by the day would probably cost around 350 to 400 pesos ($19 to $22) a day unless you negotiate a really good deal. One of the reasons they have to charge more if you hire by the day is that they would have to get an extra job somewhere else or get themselves hired by other people by the day so their salary can cover their expenses.
Normally, people here in San Miguel de Allende give their housekeepers a 5 to 6 days of paid vacations a year. At the end of the year, in Mexico, we have what is called Aguinaldo, which is two weeks' worth of salary that you pay your employees in the month of December. In some cases, Mexicans like to give their home workers Social Security or health insurance. It is not 100% mandatory but some people do. It is normal here in Mexico that housekeepers become family for you so if they get into any sort of trouble such as having health problems, whether they got sick or anyone in their family got sick, normally employers respond and support them.
(Home in San Miguel de Allende, Mexico, pictured.)
Posted June 04, 2016