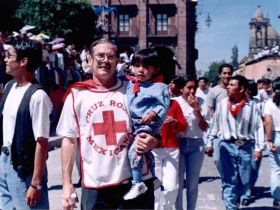 My brief answer to are there American-trained doctors in San Miguel de Allende, is "yes." 
Obviously the medical care situation can be a literally critical issue for anyone here even temporarily, and this is something I have had some experience with personally and as a volunteer first-responder with the local Red Cross. Many years ago I helped establish a project, called the Pan American Emergency Medicine Development program, that brings US emergency physicians here to assist and instruct in area hospitals, while learning Spanish applicable to their particular emergency medicine environments.
San Miguel offers an impressive variety of traditional as well as alternative medical clinics and doctors representing practically all areas of specialization, including some treatments unavailable in the US. Both the quality of the health care and the number of medical professionals in San Miguel de Allende far exceed what is normally available elsewhere except in much larger cities, and some of Mexico's finest doctors and hospitals are located in the nearby cities of Querétaro and Celaya.
(Querétaro located about 45 minutes from San Miguel de Allende, is one of the fastest growing cities in the Americas, and has exceptionally good hospitals and medical infrastructure. As a matter of fact, they are opening a huge new facility there, which is going to be like a medical city.) 
When we had been living in Mexico for about half a year, we moved to the state of Michoacán, where we rented a cabin and were collecting firewood for the fireplaces when Becky, my wife, who was 40 years old at the time, slipped and fell as she was carrying firewood up a pine needle covered hill.
Two weeks later, (I believe women are generally tougher than men are) she was still insisting that she would be okay, but she wasn't. She said, "You're not taking me to a Mexican doctor. I am not going to have doctor cutting on me who I can't communicate with. Just get me back to the United States." At that point she spoke very little Spanish and was extremely uncomfortable about seeing a doctor in Mexico, but by then she couldn't walk and her pains were horrible, so I knew I had to get her to a doctor here whether she liked it or not, and it turned out that she had slipped a disc that was obstructing 90% of her spinal cord. 
We learned of an orthopedic surgeon in Querétaro, who was the son of a friend of ours who owned a restaurant here that we ate in constantly. Friends of mine from the local Red Cross helped us with an ambulance to get there.
When we sat in the office of Dr. Fidel Dobarganes , he looked at us and the first thing he said was, "Spanish, English, French, or German?" We looked at his wall and we saw his diplomas, including one from Tulane University. This guy had studied all over the world. He had an orthopedic surgeon resume that would choke a horse! So instantly, we became comfortable.
This was one of the things that got me by the heartstrings because we moved down here at an in-between time in my life where I wanted to try something different. I said, "I'm going to try my hand as a writer." So at that point, at the age of 42, I did not have health insurance, and I didn't have a lot of money to pay large medical bills. Dr. Dobarganes slapped the MRI results up on the screen and looked at it. Then he immediately grabbed the phone on his desk, and with the little Spanish that I knew back then, I could understand that he was requesting the next available operating room. I said, "Woah, woah, woah! Wait a minute. What's this going to cost?"
He pointed to the MRI and said, "That's your wife. That's her back. You need to start accepting right now that she might not walk again. You have waited too long for this. This cannot be put off."
"But what's it going to cost?"
"Look. I am going to talk to the anesthesiologist and the neurosurgeon, (because of the spinal cord involvement, we needed a neurosurgeon) and we're going to do this at 9 AM tomorrow. We'll talk about the money afterwards. This has to be done."
After the surgery the following morning, they brought Becky to her hospital room and the doctor came to check on her. I said, "Doctor, we need to talk about the financial arrangements here." (I had been told that in the USA this surgery would have cost at least US $30,000.) 
"No, you need to be with your wife right now. Focus on her healing and we'll talk about this later."
I thought, "Oh no. I am being set up for God knows what the bill would be. But like he said, that's my wife, and I am doing whatever it takes to get this done."
On the day they were releasing Becky from the hospital, Dr. Dobarganes walked up to me and said, "Here's the deal. I worked this out with the neurosurgeon and the anesthesiologist. As you know, my mother owns a restaurant in San Miguel. I want you to go there on the first of every month for the next 10 months, and give her US $500."
I don't imagine the financial aspect of this would have so easily been worked out in the States. But here, for US $5,000 financed for 10 months with no carrying charge, my wife had what would have been at least a US $30,000 surgery, which says a lot about medical costs in Mexico, and well exemplifies the "heart factor" of the people here. The surgery was successful, and her back's been fine since then.  
I think it's also worth mentioning that the quality of medical services available in Mexico for a fraction of the cost in the U.S.A. is now such that it is causing considerable growth in "medical tourism" here. 
(Pictured: Lane Simmons in Red Cross shirt with son Pancho.)
Posted May 02, 2016