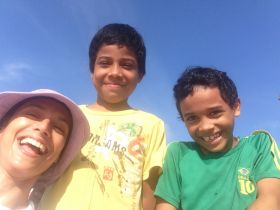 I saw a documentary on happiness the other day. It was about how happiness works and what's important for happy people. The documentary asked people from all across the world if they were happy – all the way from brothels in India to wealthy places in the States.
Strangely enough, people in India who had the least material goods said that they were happy people. These were people with lots of problems and a lot of poverty around them. The conclusion to the documentary is that the key element to happiness is to feel connected and to feel that whatever you're doing is contributing to something important. In that regard, people who live in Casco are generally happy people because there are plenty of opportunities to be connected, stay connected and create connections in a very easy way.
Just walking around one corner to the next, you would say hi to five different people. Even if you don't like them for that day, you still say, "Good morning." You create small opportunities for those connections to happen.
Casco Viejo is a city. It's not a gated community, so it is a mixed city. You have everything here, from the poorest, to the richest. The key element is everybody gets along and you see that everyone's part of the ecosystem. An ant has much importance in the jungle as the biggest and largest tree.
In these ways, I can say that the standard of living here in Casco Viejo is very interesting and I enjoy it a lot. Most of those who come to Casco are here because of the human scale and they enjoy that as well. That's one of the elements and that's why they stay.
Posted January 21, 2015