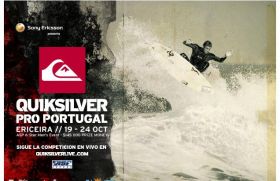 There are over 450 surf spots in Portugal. We have over 300 kilometers (about 185 miles) of coastline. We have been a recognized country for surfing for many years. In 2011, Ericeira, which is 60 kilometers (37 miles) away from Cascais (near Lisbon), was elected second as World Surfing Reserve and the first in Europe.
I've surfed at Ericeira many times. Surfers use a lot of slang in their terminologies. But for the first timers, I can tell you, you have all sized waves—you have lefts, you have rights, you have sandbanks, you have rockbanks. Each of these makes the waves different. People at any level of expertise will find waves in Portugal.
The ASP, (the professional tour of surfing, now the WSL-- World Surfing League) has one of their events in Portugal in October in which they get well known attendees like Kelly Slater, 11-time world surfing champion.
In Cascais, where I am, near Lisbon, we don't get waves for two months out of the year, but there are always places like Ericeira and further north Aveiro or Porto, which are more exposed to the Atlantic Ocean and where we get mid-sized waves. The best time to surf in Portugal is from September to May; the whole winter and spring there are waves in Portugal all over the place.
(Quicksilver sponsored surf contest, Ericeira, Portugal, pictured.)
Posted April 21, 2016