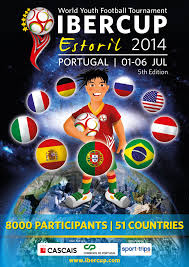 The number one sport in Portugal is soccer. Then I would say, all these basketball, handball, and all these other sports with balls, that tend to be second and third steps. But basically it's soccer, which here in Portugal, we call soccer.
In Portugal, everyone plays soccer in school as a child and it's crazy. Everyone plays. And have you heard of Ronaldo? Cristiano Ronaldo the soccer player? He's the best player in the world. He was nominated the best world player for three years in a row and he's Portuguese. The best coach in the world, Jose Mourinho, he's also Portuguese. They've been great ambassadors for Portugal because they are so well kown around the world and they are so good at what they do.
Our Tourism Board and Minister of Sports wants Portugal to be the number one golf destination in Europe by 2021. We have the best golf courses in Europe. One of them is called Oitavos Golf Course, which was elected quite recently top 10 in the world.
(Poster for The Ibercup, an international youth soccer tournament, Portugal, pictured.)
Posted April 17, 2016