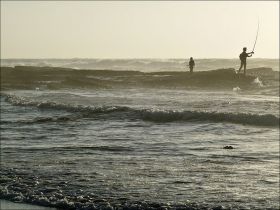 There is excellent fishing in Portugal.
My birthday is on the 4th of April, and normally on the week of my birthday my present is to go fishing for a week. Last year, I caught a 200-kilo (441 pounds) tuna. In Portuguese we call the fish I caught the atum rabillo but in English I think it's bluefin tuna. So an amateur like me caught a fish like that, which gives you an idea of how rich our waters are.
If you go fishing in the main cities—Lisbon or Porto—you will see a lot of recreational fishing. There are a lot of little boats, which tend to scare the bigger fish but you always catch fish in Portugal.
Portugal is really well known for two things: soccer and fish. The fish we get is very, very good fish and very fresh fish. All the restaurants provide very, very fresh fish. Portugal is a really beautiful place to go fishing; very beautiful.
(Fishing at Monte Clérigo, Portugal, pictured.)
Posted April 11, 2016