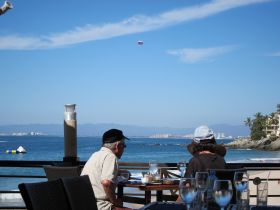 You could live a very inexpensive lifestyle or you could live luxuriously in Puerto Vallarta. The cost of living is in Puerto Vallarta is definitely less than the cost of living in the States.
The cost to rent a small apartment or a condo unit is 3,000 pesos to 5,000 pesos (about US $170 to $282) a month. To rent a small home is 5,000 pesos (about $282) a month. A larger home could cost 10,000 pesos to 15,000 pesos (about $565 to $845) a month. Rental costs would usually include water, a phone line, electricity, larger maintenance costs, and yearly property taxes. Gas would be a separate cost.
If someone wants to come to Puerto Vallarta and invest in construction of their own home, the construction cost is half of what it would cost to build the same house in the United States.
Right now, there are some 200-square meter (about 2,150 square feet) homes in Puerto Vallarta being sold that costs 2 million pesos (about $112,000). This would be the low-end to moderate range. If you buy in the more expensive areas, you could spend $11 million pesos to $15 million pesos (about $563,000 to $844,000).
There is a tremendous variety of fresh fruits and vegetables in Puerto Vallarta. These are fruits and vegetables that you wouldn't ordinarily see back in the States and some you never see in the States.
In Puerto Vallarta, you could find five to six types of bananas. They would have three to four different kinds of tomatoes. The produce is fantastic, fresh, and grown locally. In the States, they talk a lot about farm-to-table. In Puerto Vallarta, farm-to-table is typical because everything is grown locally. Some products are exported, but these are also produced locally.
Besides the fruits and vegetables, there is also a wide variety of herbs and spices in Puerto Vallarta. If you are a little scared about experimenting with all these herbs and spices, there are lots of places locally to go to eat.
There is a place in Puerto Vallarta that we always go to where a lady cooks home-cooked meals and the food is fantastic. The cost for a meal here is about 60 pesos (about $3.50), which includes a bowl of soup, a full meal, fresh fruit drinks, and sometimes a dessert. It's more than one person could eat for this price. It's a bonus that you don't have to wash any dishes. This cost reflects what the general cost of food is in Puerto Vallarta.
For those who cook at home, there's Costco, Sam's Club, and Walmart in Puerto Vallarta. There are also local markets where you could go to get fresh produce, meats, and seafood. Puerto Vallarta is right beside the ocean so you get plenty of fresh seafood. The varieties depend on the season, but there is always seafood.
The cost of products you buy in local markets in Puerto Vallarta is a tenth of what you would pay for the same products back in the United States. The food prices are very reasonable. Prices of fruits that are grown locally in Puerto Vallarta like avocados and mangoes would be exorbitant in the United States because they are shipped.
(Puerto Vallarta, Mexico, pictured. )
Posted September 28, 2017