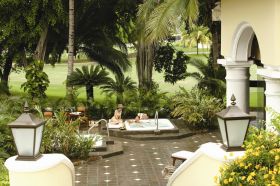 One of the reasons I came to Puerto Vallarta is because things are calm and laid back. When I was trying to decide where to live for the rest of my life, I couldn't decide between the mountains and the ocean. Puerto Vallarta has both. We have the mountains behind us and the ocean in front of us. There are beautiful sunrises in the morning coming over the mountains and beautiful sunsets every evening.
I hear people talking about how the weather is changing everywhere else. The weather is pretty much the same in Puerto Vallarta almost all of the time.
In the summer time, it gets a little bit warmer and humid in Puerto Vallarta and it's sunny almost every day. Some people would go away from August to September because although the temperature doesn't get really hot, the humidity goes up. The constant breeze that we usually have in Puerto Vallarta slows down during those months and it gets a little bit overwhelming.
People would start arriving in Puerto Vallarta in late October through December and stay until May, some even until June. Then they head back to the States, Canada, or wherever they're from. Other people who live in Puerto Vallarta year-round may take some time off in the summer and get out when it's really hot. In that time of the year, if you have air conditioning, the heat is manageable and nice. The rest of the year is what all of us call "paradise".
In addition to the weather, Puerto Vallarta has very friendly people. There is also easy access to different activities and amenities in Puerto Vallarta such as shopping malls, movie theaters, ecological activities, and tours. There is also a botanical garden in Puerto Vallarta.
Foreigners who come to Puerto Vallarta appreciate the local people and the culture so much that they want to give back. There are a lot of different groups in our community and altruistic activities that people get involved in. There are people in Puerto Vallarta living below the poverty line who are the ones receiving most of the help.
I'm involved in four different community groups. The naval vessels and Coast Guard would help bring things in for us to donate to these community groups. The locals themselves would assist the expats to help build, repair, and paint schools and other buildings such as children's homes. I am also part of a group providing physical therapy services and medical treatment at no cost to the community. Another group would provide tutoring and mentoring to children. Other groups receiving help are senior citizens and single mothers.
Generally, people come to Puerto Vallarta to just lay back and enjoy the palm trees, coconuts, and the margaritas. There is a party every night, everywhere. Hotels often shoot up fireworks. There's plenty of excitement.
There are a lot of other things to do in the daytime, too. The roads in Puerto Vallarta are being upgraded and the local government has built bike paths and places to run. There are local parks. Puerto Vallarta is great starting point if you want to explore the other parts of Mexico because there are a lot of places to explore throughout Mexico.
(Casa Velas Hotel, Puerto Vallarta, Mexico, picture. )
Posted October 06, 2017