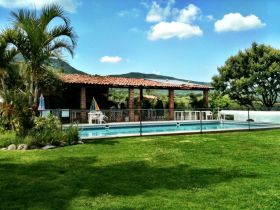 Living in Chapala and Ajijic is different and takes getting used to, but I like the lifestyle. I have known quite a few people who came to this area and just couldn't make the adjustment because everything is different and things are not as easy. I am from the United States and I expect things to work, such as the Internet, banking system, businesses, and workers.
In Chapala and Ajijic, things aren't as easy as how things are in the US. Once you get to know the local people and the way things are, then the lifestyle in Chapala and Ajijic is a lot less stressful and you can enjoy life a little more.
If the Mexican worker doesn't show up for some reason, there's always tomorrow. If the Internet goes down for a few hours or a day or two, it comes back up eventually. You must flow with things and not let things get to you. If a person can make this adjustment, then he'll find the lifestyle in Chapala and Ajijic very enjoyable and not fast-paced like what he may be used to in the States.
I enjoy life more here in Chapala and Ajijic because I slow down a little bit more. When you're going so fast, you don't have time to enjoy anything. It's like eating a meal fast with no time to enjoy it. Life is that way. Slow down to get to meet people. I enjoy that I meet a lot of people here at our hotel. It's been good and fun to know and talk to people to get their input.
It wouldn't matter to someone who is completely retired if the worker they hired to come fix the roof comes today, tomorrow, or the next day. For me, given that I run a hotel, sometimes it does matter. I might have a booking in two days and if a worker or repairman doesn't come the next day, I'll miss the window. For me, it can be stressful, but I have learned to adapt and make some changes. Things just have a way of working out.
(Pool and barbecue terrace at Hotel Perico, Ajijic, Mexico, pictured.)
Posted July 14, 2017