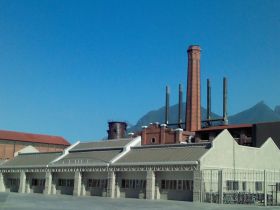 To add more information to Spencer's answer, as a tourist any person can own property or purchase property in Mexico. (A tourist cannot purchase property near a border of the sea or lake. Only Mexicans can purchase property within certain meters of the shore of the sea).
Also as a residente temporal status you cannot be a shareholder in Mexican corporations, or open or start a Mexican corporation.
To work in Mexico the Instituto Nacional de Migracion (the Mexican immigration department) requests that any Mexican corporation or employer in order to hire a foreigner must have more Mexican employees than foreign ones. Also a foreigner with residente temporal or residente permanente cannot work in the Mexican government.
(Former steel mill, Monterrey, Mexico, pictured.)
Posted December 02, 2016