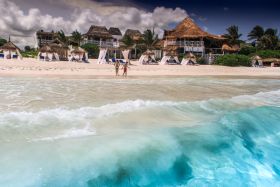 It isn't difficult to become a citizen of Mexico. We are a very warm people. We like having more Mexicans. We open the doors for you. It's a simple process if you have everything in order.
You'll need your birth certificate apostolized and translated. You'll need to prove to the Mexican government you lived in Mexico for the correct amount of time. If you're from Canada or the United States, it's 5 consecutive years. You'll need your criminal records from the state where you're living. If you live in Chapala, it's the state of Jalisco. You'll also need your federal criminal record, for which you would have to go to Mexico City.
You take a small test if you're under 65; six questions, but they're very generic in Spanish, and you'll have an interview, and you pay roughly 5,000 pesos (roughly US $270) to the Mexican government. The process is between 3 to 6 months.
This is if you go through it without having any ties to Mexico. What do I mean with having ties to Mexico? If you did not marry a Mexican citizen, if your children are not Mexican, if your grandfather isn't Mexican, those are the ties. If there is a family member who is Mexican and if you're going through the naturalization process through them, it's less expensive and much easier. It's the same steps, however, there are no tests, and the cost is roughly 2,000 pesos (roughly $110).
( Beach on the Riviera Maya, Mexico, pictured. )
Posted August 24, 2017